I confess, I want be Wonder Woman. I want a lasso of truth, which I would use to tie up politicians, drag them before the international media, and ask them questions about the constitution and their deepest motivations. That alone would be worth being an Amazon who has only recently gotten laid (helllllllloooo Superman! Where have you been all my life?)
Plus, if I were Wonder Woman, I am fairly sure I could be a little more active in making the world a better place. Sure, I would rescue kittens from trees and pull the genitals off rapists, like any decent woman granted superpowers would, but I would also cloud up and rain on the Big Picture as well.
See? Here is proof: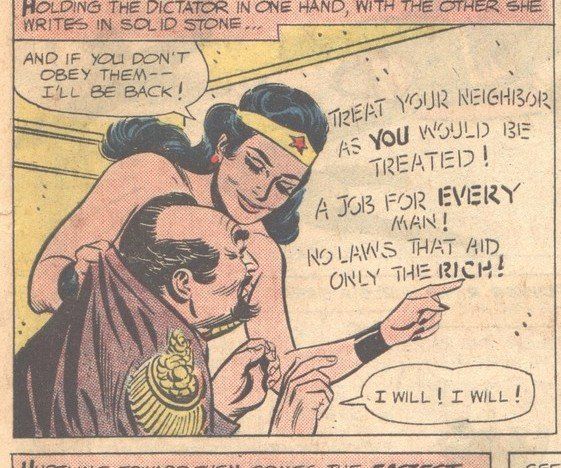 Except for the fact that "man" should read "every person who wants one" I am all over this message. Being able to write it in stone with my finger would be a nice touch, I admit. I would also add a fourth demand – "Equality and opportunity for everyone." Yep, that would cover the basics I think. I cannot tell you how quickly Afghanistan would be forced to stop bombing schools for girls, how rapidly China would have to give up its policy of forced abortions, and how fast predator drones would be relegated to American history books. That's just for starters.
I would also be kicking ass and taking names in boardrooms as well as political bedrooms. (Politics makes strange bedfellows, that's why I would be looking in the bedrooms, BTW.) I would want to know why Joe CEO was shipping jobs to exploited workers just to line his own already deep pockets, among many other things.
Of course, having a good grasp of reality I know it would never work. I would get labeled a terrorist (fair cop, because I would be using intimidation/ass-kicking to advance a political agenda) and quickly become public enemy number one for governments across the globe. Soldiers would be deployed against me, and even though I would try to evade and disarm only, sooner or later I wouldn't be quick enough or a bullet that bounced off my bracelet would hit someone else and then I'd have to deal with the fact people were dead because of me. I would be hunted down, murdered, and the governments would be invested in making sure I was remembered as a villain instead of a superhero who struggled to help people.
It's depressing.
Unless … there was the Justice League to back me up. Sheesh, just Superman and Batman would be game changers! Throw in Aquaman and the rest (especially including some of the new chicks on the block, like Hawkwoman and Zantanna, so it isn't a total sausage-fest) and you have really got something!
But how to stop us from becoming demi-god tyrants convinced of our own correctness in everything?
:::headdesk:::
Stupid technology thwarted me. Here's the Vicar of Dibley joke for the reply (it starts 1m10s into the clip)